Today we headed to one of the "older" golf clubs in Marrakech, Amelkis Golf Club, which first opened in 1995. Eons ago in Marrakech golf time.
I first played Amelkis back in 2009 and I quite enjoyed it. Back then I wrote that it resembled a "Florida course", mainly because of the somewhat artificial landscaping and the many ponds and lakes. And maybe because I knew that the designer was an American, Cabell Robinson. Coming back after seven years I was very curious to see how the course had held up to all the recent competition in Marrakech.
Amelkis has three 9 hole loops, red, green, and blue. The blue-red combination is the original 18 holes, the green loop is fairly new and not fully mature. An additional nine holes are planned and will be put in place "when market conditions are better", according to designer Cabell Robinson.
I still enjoyed the course this time around. We played the original blue-red track, and the course was pretty much as I remembered. The course is very approachable and suitable for players at all levels. At around 5800 meters from the club tees, it is neither long nor short. Most holes can on a good day be reached in regulation by a bogey golfer.
There are plenty of bunkers and waste areas, and quite a few ponds and small lakes, adding to the esthetics of the course. The course is completely surrounded by villas, but it is mature enough so that most houses are obscured by palm trees or hibiscus bushes, which is more than you can say about the housing areas surrounding many of the other courses in the area.
There are not really any bad holes, but also not too many spectacular ones. One, however, does stand out; the 6th hole on the red loop, hole 15 if you play the original course.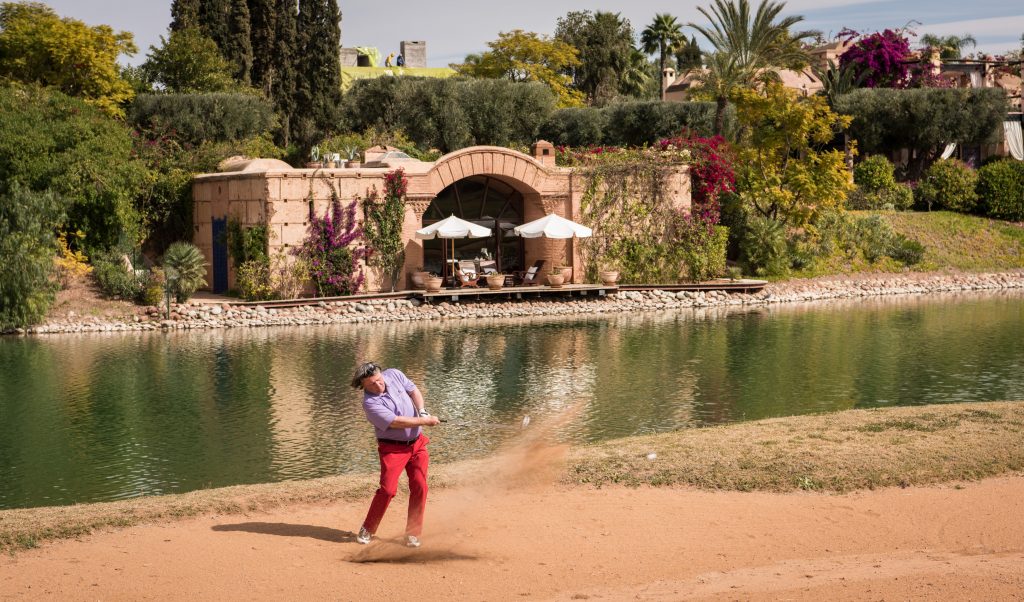 A par five with a blind tee shot, it completely changes character when you reach your tee shot at the top of a small hill. The hole veers slightly to the right, with a small lake on the left. Along the lake is a very long bunker/waste area. This is a good thing since it oftentimes stops your ball before it rolls into the lake. On the other side of the lake is a beautiful property owned by Liliane Bettencourt of l'Oreal beauty product fame. A two-building mansion, with the beach villa fronting the lake. With that view, I just hope she is a golfer.
The hole then wraps around the lake to finish with an extensively bunkered lakeside green. Definitely the signature hole.
The clubhouse is nicely appointed, with a terrace overlooking a small pond and the 18th green. An enjoyable view for some after golf refreshment.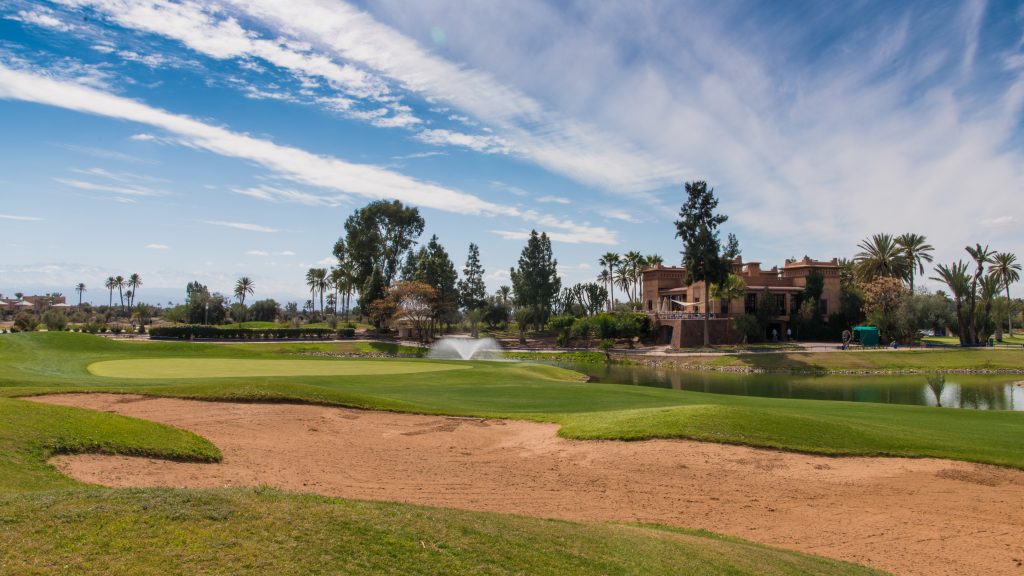 Not all is perfect at Amelkis, though. You can tell that times are getting tougher with all the new competition. The maintenance had lagged a bit, with severely faded hole map signs, ill-defined fairway cut lines, some poorly maintained grass, and a few other small things. Nothing disastrous, but you could tell that all is not well.
Adding to the feeling was the fact that prices at Amelkis have gone up, and most things were just a tad more expensive, even more expensive than at a much higher-end facility like Assoufid. Five euros for a simple trolley, a euro more for a beer, small things like that. Nothing that would bankrupt you, but unnecessary. If Amelkis is going to again flourish, it needs to get the prices in line with its quality.
If Amelkis is included as a course in your golf package, by all means enjoy it, you will have a good time. But if you are picking and choosing courses yourself and paying for them individually, you can do better.