The bars and restaurants at golf clubs are usually nicknamed "The 19th hole" because that's where you usually end up after a good 18 hole round of golf. But at the Montgomerie Marrakech, it could also be called the first hole – the food is so good that you could, and should, go over there just for the food. And especially the hamburgers at the "O Mammy Burger". Heaven for hamburger lovers.
It doesn't end with the hamburger restaurant. There are two restaurants and an Ice Bar in the huge, three-story clubhouse. As if that was not enough, there's even a car dealership! Clearly, the Montgomerie Marrakech is trying to broaden its clientele beyond golfers, and become an "in" spot for the Marrakech Jet Set. From what we saw, they are well on their way.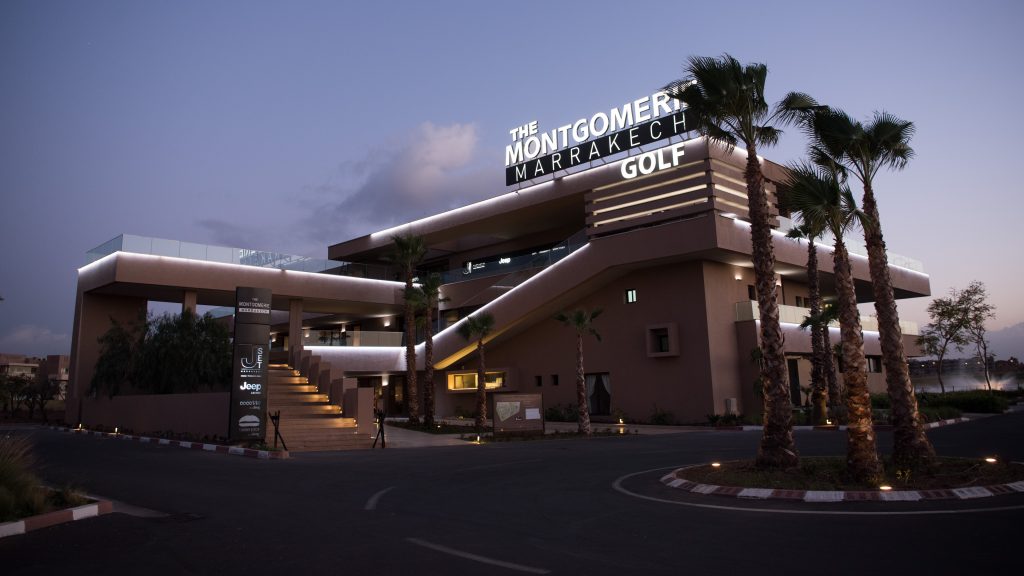 But a fantastic clubhouse is not all the Montgomerie has to offer. There is also an 18 hole championship golf course.
The course is located not far from the center of Marrakech, near the airport. It is built on a fairly flat piece of land that used to be an olive grove, but the course is not entirely flat – during construction nice, rolling fairways have been created.
The course starts with a very short par four, where you simply aim for the central mosque in Marrakech, the Koutoubia, to get your line. A nice and straightforward warm-up.
You then tunnel under a road, and the next seven holes are played on the other side before you come back and play the ninth back to the clubhouse.
On the back nine, you find some of the more challenging holes, especially the quite difficult 14th and 15th holes. For a high handicap golfer, the back nine are tough and not particularly interesting, but for a better golfer, they are an interesting challenge, being long and well bunkered.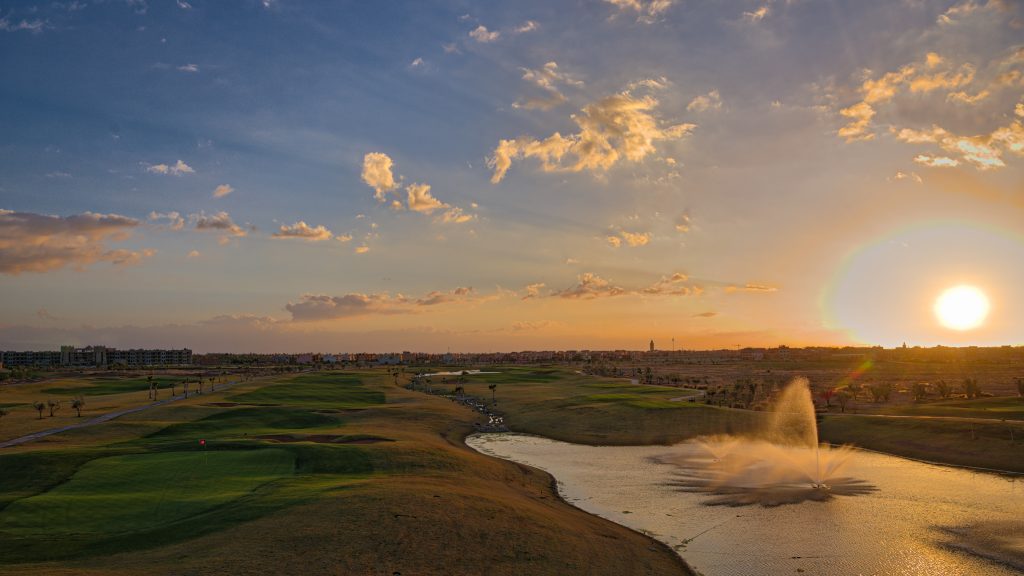 The course comes back to the clubhouse with the par-three 16th, then loops away with the 17th, maybe the signature hole, a nicely landscaped par 5 with a tricky approach to a green well guarded by water and sand. The 18th coming back to the clubhouse is fairly straightforward, although there is a stream and some water in play.
I enjoyed the course, but I think it is most suitable for bogey golfers and better. If you are a high handicapper, some of the holes, especially on the back nine, are quite long and not particularly interesting. But for the single handicapper, this course is quite a nice challenge.
With its proximity to the city, you should definitely pay a visit, if only to enjoy the good food and the nice views from the clubhouse. And once you see it, it may be hard to resist a round of golf.